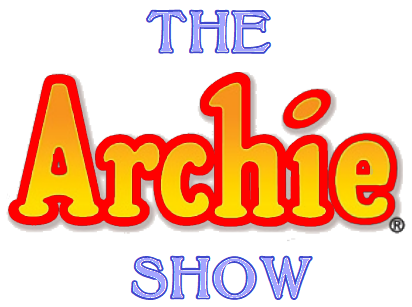 The Archie Show is a Saturday morning cartoon animated series produced by Filmation. Based on the Archie Comics, created by Bob Montana in 1941, debuted on CBS in September 1968 and lasted for one season. A total of 17 half-hour shows, each containing two 11 minute segments, were aired. Archie cartoons continued to be aired in various forms until 1978.
List of Episodes
Edit
Dallas McKennon as Archie Andrews, Hot Dog, Mr. Weatherbee, Chuck Clayton, Mr. Lodge
Jane Webb as Betty Cooper, Veronica Lodge, Miss Grundy
Howard Morris as Jughead Jones, Big Moose, Pops, Dilton Doily
John Erwin as Reggie Mantle
Ron Dante as Archie Andrews (vocal)
Toni Wine as Veronica Lodge (vocal)
Directed by: Hal Sutherland
Series Written by: Bob Ogle, Jack Enyart, Hal Geer, Charles Shows, Paul Fennell, Larry Harmon, Homer Brightman, Carl Kohler
Associate Directors: Rudy Larriva, Don Towsley
Sequence Director: David Detiege
The Characters are Based on The Archie Comics Book Series Created by · John Goldwater
Based On The Characters Originally Designed by · Bob Montana
Art Director: Don Christensen
Character Design: Ed Benedict
Storyboards: Sherman Labby, Gary Lund, Jan Green, Oscar Dufau, Mike O'Connor, Paul Fennell
Layout: Ken Hultgren, Kay Wright, Jim Davis, Zigamond Jablecki, C.L. Hartman, Terrell Stapp, Ed Benedict, Alvaro Arce, Tom Yakutis, John Ahern
Background Design: Erv Kaplan
Background Artists: Paul Xander, Maurice Harvey, Bill Geach, Venetia Epler, Martin Forte, Patricia Frye, Jack Healey, Rene Garcia, Ted Littlefield, Bill McArdle, Art Lozzi, Lorraine Morgan, Ann Guenther, Barbara Smith, Richard Thomas, Gordon Ipsen, Ron Dias
Production Coordinator: Rock Benedict
Checking Supervision: Marion Turk, Jane Philippi
Ink and Paint Supervision: Martha Buckley, Betty Brooks
Cel Painter: Marilyn Pierson
Production Assistant: Ed Ticktin
Voices: Dallas McKennon, Howard Morris, Jane Webb, John Erwin
Vocals by: Ron Dante, Toni Wine
Background Music: Ray Ellis · R.E.C. Music, Inc. A.S.C.A.P.
Musical Direction and Additional Music: Carl Stalling, Milt Franklyn
Songs and Dances, Words and Music by: Jeff Barry, Ritchie Adams, Mark Barkan · Publisher Don Kirshner Music, Inc. B.M.I.
Music Supervisor: Don Kirshner
Music Arrangements: Gordon Zahler
Animation Director: Ed DeMattia
Animators: Chic Otterstrom, Les Kaluza, Xenia, Bill Hutten, Otto Feuer, Ken Southworth, Jack Ozark, Reuben Timmins, Ed Friedman, Butch Davis, Virgil Raddatz, Bob Trochim, Virgil Ross, Tom McDonald, Dave Tendlar, Bob Matz, Paul Krukowski, Dick Hall, Bill Hajee, Ralph Somerville, Len Rogers, Murray McClellan, Len Redman, Jim Brummett, Bob Carr, Russ Von Neida, Bob Bransford, Joan Orbison, Bill Pratt, Marshall Lamore, Bob Bentley, Jack Foster, Norm McCabe, Geo Grandpré, Judy Drake, Bill Reed, Tom Baron, Volus Jones, Jerry Hathcock, Izzy Ellis, Don Williams, Cal Dalton, Phil Roman, George Rowley, Frank Onaitis, Jean Blanchard, Wesley Bennett, Anatole Kirsanoff, Lou Kachivas, Ed Solomon, Barney Posner, John Freeman, Brad Case, John Walker, Chuck Harvey, Sonja Ruta, Fred Madison, Ann Tucker, Jane Nordin, Lloyd Vaughn, Barbara Orme, Tiger West, Tom Ray, Richard Williams
Camera Supervision: Roger Brown, Ray Lee, Ron LaPeer, Gary Milton, Sergio Antonio Alcazar, Roger Sims, Gene Borghi
Film Editors: Jim Champin, Dan Milner, Mark Letherman
Negative Cutting: June Gilham
Sound Effects Provided by: Einfeld Mahana Corp.
Sound Effects: Jerry Pierce
Sound Effects Editors: Jerry MacDonald, Rex Lipton
Prints by: Technicolor®
Executive Producers: Hal Geer, Larry Harmon
Produced by: Lou Scheimer, Norm Prescott
Produced by Filmation Associates
© MCMLXVII The Archie Co. All Rights Reserved
Community content is available under
CC-BY-SA
unless otherwise noted.