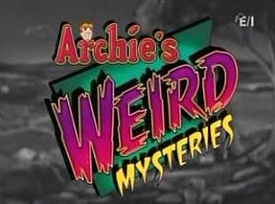 Archie's Weird Mysteries is the TV show focusing on the strange goings-on in Riverdale. Archie does reports on them in the school newspaper and concludes each article and episode by saying, "...in a little town called Riverdale." The show's format shows Archie and the gang solving strange mysteries in a format similar to both the Scooby-Doo franchise and The X-Files. The show was created to comply with the e/i TV laws. It aired from October 2, 1999, to February 22, 2000. There are 40 episodes in total. 
List of episodes
[
]
Voice Cast
[
]
Main
[
]
Supporting
[
]
Tony Wike as Mr. Waldo Weatherbee, the Principal of Riverdale High.
Lucinda - Practices voodoo magic; provides advice to Archie when he needs it regarding the supernatural; creates potions for those individuals in love.
Ryle Smith as Pop Tate, the owner and operator of the "Pop Tate's Chock'lit Shoppe" shop.
Mr. Fisk - CEO of ZoomCo who, after discovering that his Zoom energy drink contains a mutant formula that causes some people to mutate into monsters, tries to bribe and stop Archie from telling the world on national TV. He convinces Archie not to go to press as doing so would destroy his company and many new jobs for Riverdale.
Jerry Longe as Dr. Beaumont, the caretaker and owner of an odds/supernatural/curiosity store. Provides advice to Archie and friends as he solves Weird Mysteries.

Longe also voices Smithers, Veronica's cynical butler. He is aware of the supernatural but only shows any interest in waiting on Veronica.

John Michael Lee as Mr. Hiram Lodge, Veronica's father who is disapproving of Archie.
Ms. Geraldine Grundy - Also known as "Ms. Grundy". The teacher of Archie, Veronica, Betty, Jughead and Reggie. She has feelings for Mr. Weatherbee.
External links
[
]