Ethel Muggs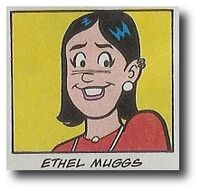 Base Of Operations
Riverdale
Characteristics
Status
Origin
Character Links
Ethel Muggs (originally Ethel Dinklehof) was portrayed in the early era as a tall, ugly, somewhat boy-crazy individual that had a huge infatuation with Jughead Jones. This was explained in her first appearance in Archie's Pal, Jughead 84 as the result of Dilton's Electronic Mate Selector selecting Jughead as "the perfect mate for you". She usually resorted to devious means to get Jughead in her clutches, and would typically end up running after him.[1] Ethel has also pursued Jughead by appealing to his appetite; the Betty and Veronica comic title often featured real recipes that Ethel used to make her way to Jughead's heart through his stomach. Earlier issues featuring Big Ethel show her bearing a strong resemblance to Jughead, also, with her prominent nose, dark hair, and angular build. In the late 1980s, Ethel was occasionally drawn with braces on her buck teeth.
Although Ethel is usually portrayed as gangly and plain, with no figure, one story involving a makeover by Betty and Veronica in an attempt to attract Jughead's attention revealed her to be quite curvy and pretty (albeit still with buck teeth). Despite her new look, Jughead was as uninterested as ever.
Not your typical teenage girl, "Big" Ethel Muggs has a history of chasing a certain crown-wearing boy at school. Always searching for the way to Jughead's heart, Ethel often relies on her cooking and baking skills to get close to her biggest crush. Jughead is never interested in pursuing a romantic relationship, but he will usually agree to a date provided enough tasty treats are awaiting him! Those that judge Ethel's exterior lose out on her fun personality and delicious baked goods. She is a sweet girl…even if she comes across as boy-crazy most of the time!
In the later era, she has been portrayed as an average, somewhat likeable individual, whose infatuation for Jughead has lessened quite a bit. She now has other interests that keep her mind from Jughead, including Archie Andrews and Dilton Doiley, to keep her company. This actually tends to make Jughead a bit jealous. She and Dilton share mutual sympathy due to their few successes with romantic relationships, which is one of the reason that they occasionally date. She has even been on one memorable date with Archie in one story. That date showed another side of Ethel, where she was funny, smart and attractive.[2] The same story also introduces Hank, a friend of Ethel's who works at a local club Archie and Ethel visit on their date.
It is later revealed that Hank was originally a pen pal of Ethel's, and she sent him a picture of Veronica instead of herself because of her low self-esteem. When Hank met Veronica standing in as Ethel, he dumped her because of her vanity. He soon ran into the real Ethel, and told her she was the most exciting girl he has ever met, and that Veronica could not hold a candle to her. When she questions his sincerity, he replies that he does mean it, and she is even more beautiful than Veronica.[3]
Although Ethel drives Jughead away when her affections are too obvious, he can often stand being around her when she keeps her calm. In a storyline that ran in Jughead in the early 1990s, Ethel told Jughead she is tired of chasing him, and begins a romantic relationship with Jeffrey, a blind boy. During this time, Jughead also had a semi-romantic relationship with Anita, a paraplegic African-American teen. Both Jughead and Ethel displayed jealousy at the others' relationship, and the storyline was eventually dropped.[4]
Various stories depict Ethel as a fan of science fiction, art, and trains. She also has a talent for making doll-house furniture, and often works as a babysitter. She is also a fine cook, which is one of the reasons Jughead occasionally submits to being around her. She is fond of dogs, and sometimes uses her attractive female poodle, Clementine, as bait to lure Jughead and Hot Dog.
Related
Links
Footnotes
Community content is available under
CC-BY-SA
unless otherwise noted.