Fred Andrews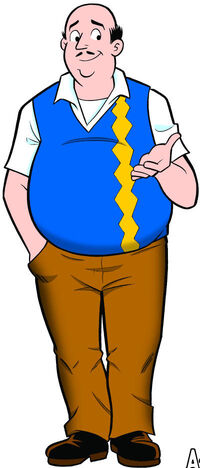 Real Name
Frederick "Fred" Andrews
Base Of Operations
Riverdale
Characteristics
Status
Character Links
Frederick "Fred" Andrews is the father of Archie Andrews and the son of Archie's grandfather Artie Andrews. Apart from Hiram Lodge, he and his wife Mary appear more than any other parents in Archie Comics. Archie often calls him "Pop." He is somewhat overweight, and his wife often makes him diet, which he dislikes. He has also lost most of his black hair. Thinning-haired, amply-contoured gentlemen appear to be common in Archie Comics (Mr. Weatherbee, Coach Kleats, Smithers, Pop Tate).
He works as a businessman. Although the specifics of his job are not clear, it evidently involves an aspect of industrial automotive sales. He sometimes claims himself capable of more skills than he actually is. He is conservative and has old-fashioned ideals, and is bothered by the changes in the new generation, which he must endure due to his having a teenage son. However, beneath this lies a very soft heart and he occasionally displays a sense of humor towards Archie. The two of them are close, and share many father/son activities. His favorite breakfast includes eggs, decaffeinated coffee, and toast.
Related
Links
Footnotes
Community content is available under
CC-BY-SA
unless otherwise noted.