Josie McCoy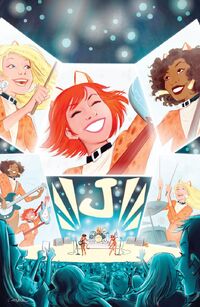 Relatives
Myles Jones
(father) Mrs. McCoy (mother) Alan M. (boyfriend) Albert (ex-boyfriend) Valerie and Melody (best friends)
Characteristics
Status
Occupation
Singer; Musician; Student
Origin
Character Links
Lead singer and guitarist for "Josie & the Pussycats," Josie is a sweet girl who is actually sort of like a female Archie! She can be a little scatterbrained and goofy, but she always means well. She doesn't always know exactly what she wants, but after achieving her goal of becoming a world-famous rock star before graduating high school, can you blame her? She is the driving force behind her group, and has been in an on-again, off-again relationship with The Pussycats' roadie, Alan M., for a while now.Josie is a red headed girl who lives in riverdale with her friends and band members. She was created in 1958 by Dan DeCarlo. Her original name was Josie Jones, later changed to Josie McCoy, perhaps to distinguish her from Jughead Jones as the "Josie" characters began interacting more with the Archie gang.Josie is named after the famous French singer Josephine Baker.A snooty and ambitious teen. She's the lead singer of Josie and the Pussycats and has no interest in recording any songs written by Archie.Josie, along with the other two members Valerie and Melody, spent their time practicing in the stock room at Power Records where they worked. One day, Josie came to rehearsal with a bag of cheap cat ears from the Halloween store. With her goals in sight, she plans on making it big; winning the Rockland County's Battle of the Bands the prior year was only the beginning.

Powers and AbilitiesEdit
Powers
None

Josie has appeared in over/about 300 issues of the archies series. She also was featured in the Josie and the pussycat movie where she was portraid by Rachael Leigh Cook. She also was featured along with Melody and Valerie in a Scooby Doo episode.
Related
Links
Footnotes
Community content is available under
CC-BY-SA
unless otherwise noted.