We're Getting Mutants in the MCU - The Loop
Play Sound
Miss Grundy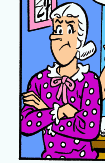 Current Alias
Miss Grundy
Base Of Operations
Riverdale
Characteristics
Status
Origin
Character Links
In the comics, she is the homeroom teacher at Riverdale High School, occasionally teaching English and math as well. In Jackpot Comics no. 4, she is referred to as "Mrs. Grundy, the principal", but this is incorrect. Her name is derived from Mrs. Grundy, a name that has been used to refer to a prudish woman since the early nineteenth century. Before she became a teacher, she worked at a pickle-packing plant. During World War II, she served with the WACs, outranking Mr. Weatherbee.
Despite occasional grumblings from her students, they seem to genuinely like and admire her. She, in return, tends to drive them hard, pushing Archie Andrews and Moose Mason in particular, but remains quite fond of her students.
In some comics, it is implied that she has a crush on Mr. Weatherbee, although this has never really been explored.
First name
Miss Grundy's first name is most often given as Geraldine. However, at least once, another staff member called her "Amanda", and in at least one Little Archie story, Miss Grundy's first name is said to be Grisensnable. She was also called Alice in at least one mainstream story. In Archie's Double Digest 41., she was revealed to be a former student of Riverdale High School, and had run for class president, in a joke about the need to clean off the bulletin board. It was given as "Elizabeth" in The Archie and Sabrina Hour, and as Doris in the animated series Archie's Weird Mysteries. In an earlier Archie book that listed the names of the characters, her name was also Gertrude. Nevertheless, Geraldine remains her commonly accepted name.
Physical appearance
In older stories, she was bald and wore a white wig, which fell off frequently, embarrassing her greatly. However, this has not been referenced for a long time and it can be assumed that this idea has been retired and that she has real hair now. Ever since her introduction, her nose has been identical in appearance to Jughead Jones' nose, and her figure just as slim as his. In one comic strip, Jughead is ordered to try on a wedding dress meant for Miss Grundy since their figures look alike. She is one of the few females that Jughead likes outside of his family.
Alternate versions
In Life with Archie's current dramatic storylines, Miss Grundy realized how much she loved Mr. Weatherbee, and the two finally married. However, in this alternative future, she died due to renal failure soon afterward, leaving Mr. Weatherbee widowed and broken-hearted.
In Archie's Weird Mysteries, her name is Doris, as opposed to Geraldine in the original comics.
Related
Images featuring Miss Grundy

Quotations by or about Miss Grundy
Links
Footnotes